Sep 28, 2014
Prince Alwaleed Awards Al-Hilal Team in Presence of Prince Abdulrahman Prince Alwaleed's Private Plane to Transport Team to UAE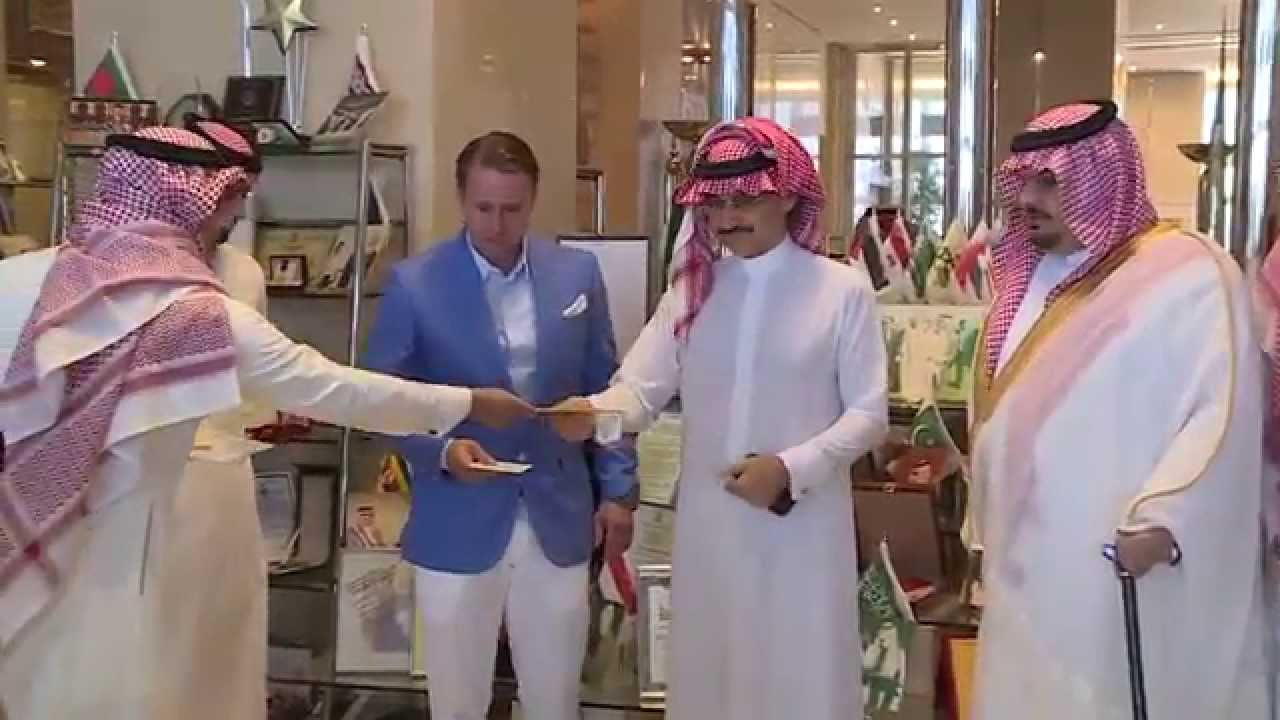 HRH Prince Alwaleed Bin Talal Bin Abdulaziz Al Saud, Chairman of Kingdom Holding Company (KHC), received at his office in #Riyadh on Sunday 28th September 2014, HRH Prince Abdulrahman Bin Mosaad Bin Abdulaziz Alsaud, Chairman of Al-Hilal Saudi Football Club who was accompanied by Al-Hilal Head Coach Rigickamb from Romania and the team players. The meeting was also attended by Mr. Fahad Bin Saad Bin Nafel, Executive Assistant to HRH the Chairman and Mr. Mohammed Alkheraigi, Assistant Media Manager, Corporate Communications Department.
During the meeting Prince Alwaleed and Prince Abdulrahman discussed the latest updates of Al-Hilal and their achievements. Prince Alwaleed stressed the need to support sports and athletes as well as the development of clubs in Saudi Arabia and to embrace the young generation to hone their athletic skills and invest their time in useful activities.
As a form of encouragement, Prince Alwaleed awarded the club members and players a total of SR40,000 as Al-Hilal opened the Asian Champions League (AFC) semifinals with a 3-0 win over Al-Ain. Prince Abdulrahman thanked Prince Alwaleed for his support and his constant encouragement to clubs and sport federations in Saudi Arabia.
Prince Alwaleed also secured his private plane to transport Al-Hilal to #UAE on Sunday 28th September 2014, to meet Al-Ain on Hazza Bin Zayed Stadium within the semi-finals of the AFC Champions League. Furthermore, Prince Alwaleed expressed how vital it is to encourage youth by supporting their talent and investing in their future through various sport activities. Prince Alwaleed is well known for his continuous contributions to sports locally and regionally.
Prince Alwaleed had supported Al-Hilal in various occasions that include SR10 million for the coming four seasons (SR2.5 million annually), Prince Alwaleed gave each player in Alhilal and Al-Ittihad club SR20,000 after they had reached the quarter final of AFC Champions League, also Prince Alwaleed has granted Al-Hilal SR1 million as an award for leading the Saudi Professional League (SPL).Also, Prince Alwaleed gave two Bentley cars to Capitan Sami Al-Jaber for his contribution to Al-Hilal and to the Kingdom of Saudi Arabia.